Jump to Footer
Stay Safe – Quick Tips for Natural Gas Lines and Appliances
---
Many people do not realize that the gas pipes that run from the curb to your meter, and from your meter to your house actually belong to you, the customer! Therefore, those pipes—and all of the attached appliances—are your responsibility to maintain. Whether it's your water heater, furnace, gas grill, or pool heater, it's up to you to take care of the "service line" and "house line," and make sure all of your appliances are working properly.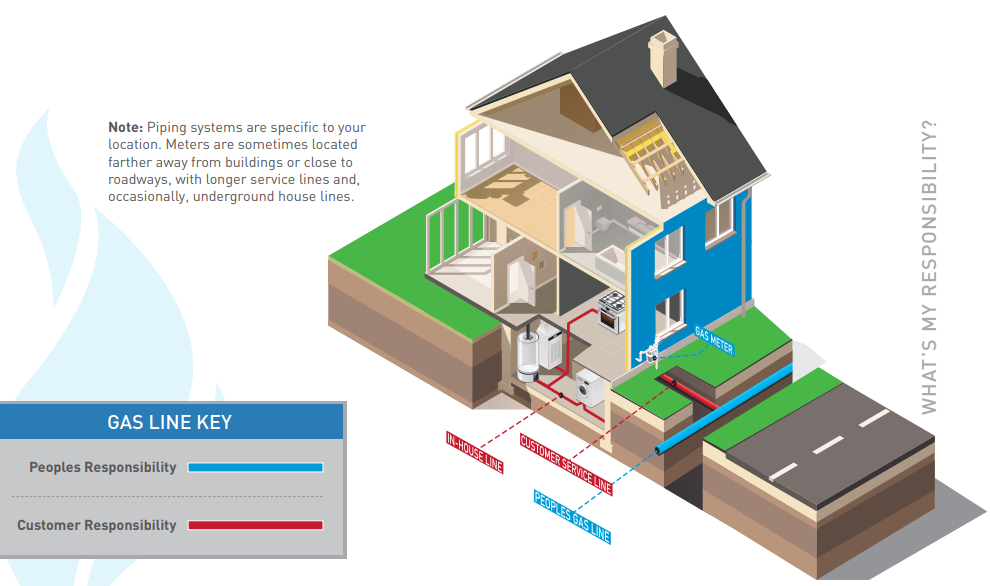 It's very important to take care of these pipes and your appliances in order to keep yourself and your family safe. So we've put together a list of tips so you can continue to safely heat your home and use your other natural gas appliances.
Look for a blue flame. In your appliances and burners, the flame should NOT be orange or yellow. If pilot lights and burners have a steady blue flame, they should be operating correctly. (Fireplaces are the exception to this rule; you should check your natural gas fireplace operating manual for guidelines). If a burner goes out on your stove, shut off the range knob. Wait for the gas to dissipate. Then you can light a match and hold it to the pilot light to relight the burner.

Keep an eye on things. Does something look different? Do you see any connections that are at a strange angle or bent? Do you see any rust, stains, or water build up? If so, you should contact a qualified plumber to come and inspect the line and/or appliance.

Replace furnace filters three times per year (or per the manufacturer's recommendation) to ensure that the air is flowing properly.

Have all gas appliances, furnaces, vents, flues, chimneys, and gas lines in your home inspected every year by a qualified professional.

Keep in mind that flexible natural gas connectors are corrugated metal tubes used to attach gas appliances to a home. Some older, uncoated brass connectors are still in use and can corrode or break.

If you have a natural gas appliance that is more than 25 years old, it is a good idea to have the connectors replaced.

If something seems unsafe, call a professional immediately to have the problem inspected and repaired.

NEVER move or install a gas appliance, or change a connector, yourself. Always get a professional. You can find a list of Qualified Plumbers here. 

Keep the areas around all appliances and equipment clean and unblocked to allow proper air flow.

Follow manufacturer instructions for the care and use of gas appliances and equipment.

Make sure you have an all-purpose (ABC rated) fire extinguisher in a convenient location. Always keep it in the same place, and double check that everyone in your home knows where it is located. You can purchase a fire extinguisher at most local home improvement stores.

Don't store household chemicals or combustible materials near gas appliances. Doing so can cause a serious accident in your home. Vapors from flammable liquids such as gasoline, cleaning solvent, contact cement, and paint thinner can ignite from the pilot light found in natural gas water heaters or furnaces. Therefore, do not use these liquids near natural gas appliances.

Keep the lint trap on your gas dryer clean and clear. Check your clothes dryer's exhaust duct, vent, and hood cover periodically, removing any lint or obstructions.

Make sure you and everyone in your home knows the signs of carbon monoxide poisoning. Click here for more information.