Jump to Footer
Holiday Cooking
---
Whether it's a pumpkin bundt cake with maple glaze or a simple stuffed celery, we're here to give you some ideas to spice up your holiday cooking! Check out all of the helpful tips and scrumptious recipes below.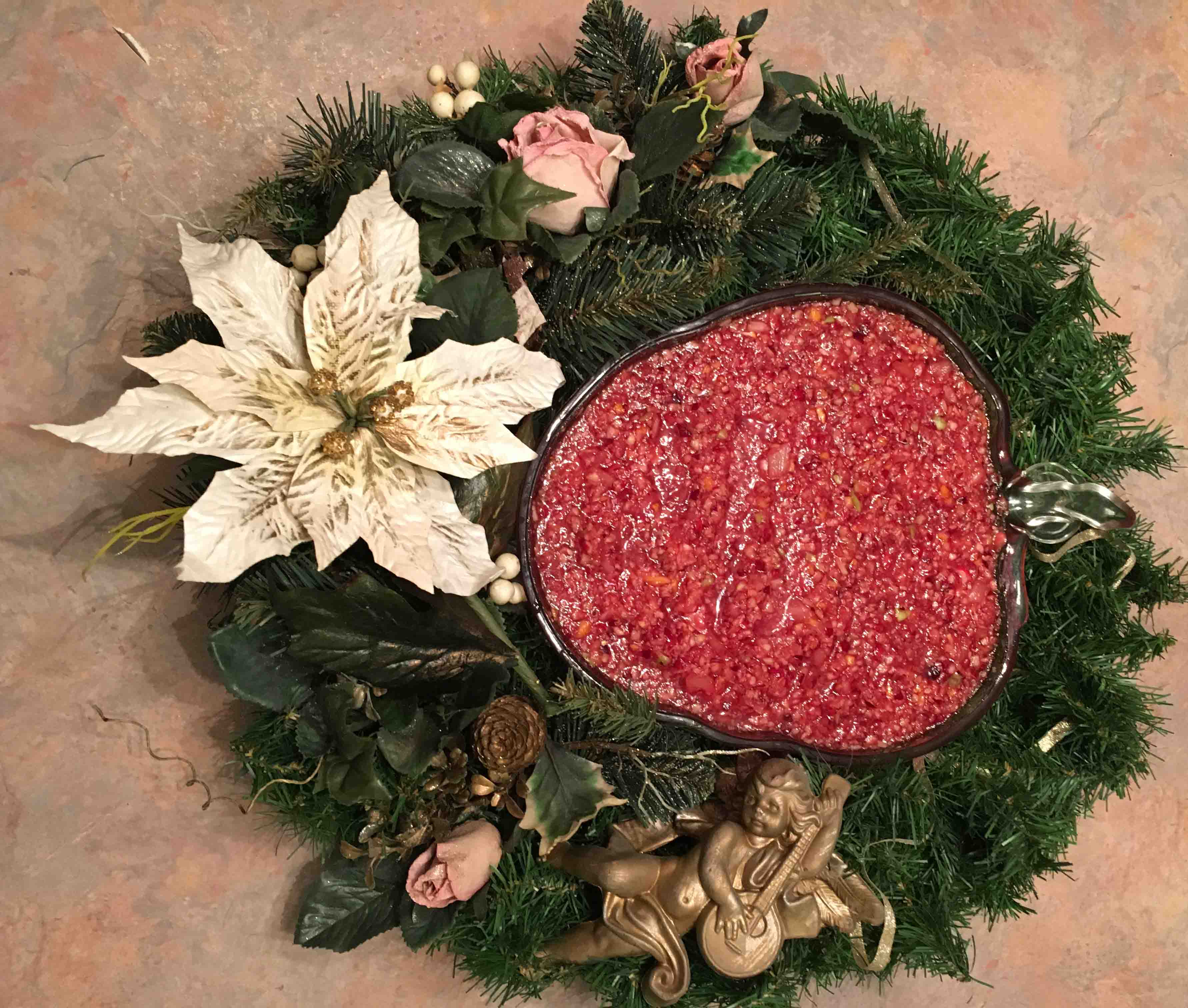 Ingredients:
1 lb fresh cranberries (ground)
1 apple (ground)
1 whole orange (ground), include rind                                                     
1/2 cup chopped nuts (optional)
2 cups sugar
2 small packages Strawberry Jell-O
2 Tbls lemon juice
1 small can crushed pineapple with juice
Directions:
Mix the cranberries, apple, orange and nuts together.

Stir in 2 cups sugar, mix until the sugar is dissolved.

Dissolve 2 small packages of Jell-O in 1 1/2 Cups boiling water.

Add 2 tablespoons lemon juice and 1 small can pineapple.  

Mix with cranberry mixture and pour into a mold.

Refrigerate until firm. Serve cold.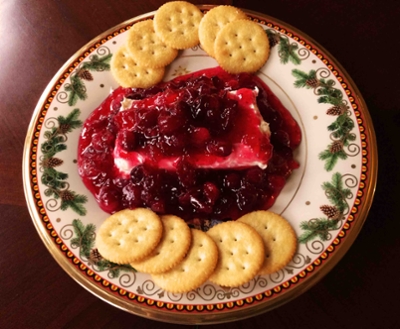 Ingredients:
1 cup of water
1 cup of sugar
1- 12 oz. package of fresh or frozen cranberries
½ cup apricot preserves
2 tsp. spoons of lemon juice
1 package of 8 oz. cream cheese
Directions:
Over medium heat, bring sugar and water to boil without stirring.

Boil 5 minutes and add cranberries.

Cook until berries pop and sauce is thickened, about 10 minutes. 

Remove from heat and add apricot preserves.

Stir in lemon juice and let sit until cool.

Spoon over cream cheese and serve with crackers. Store leftover sauce in the refrigerator. 
Cornbread Stuffing with Dried Cranberries and Pecans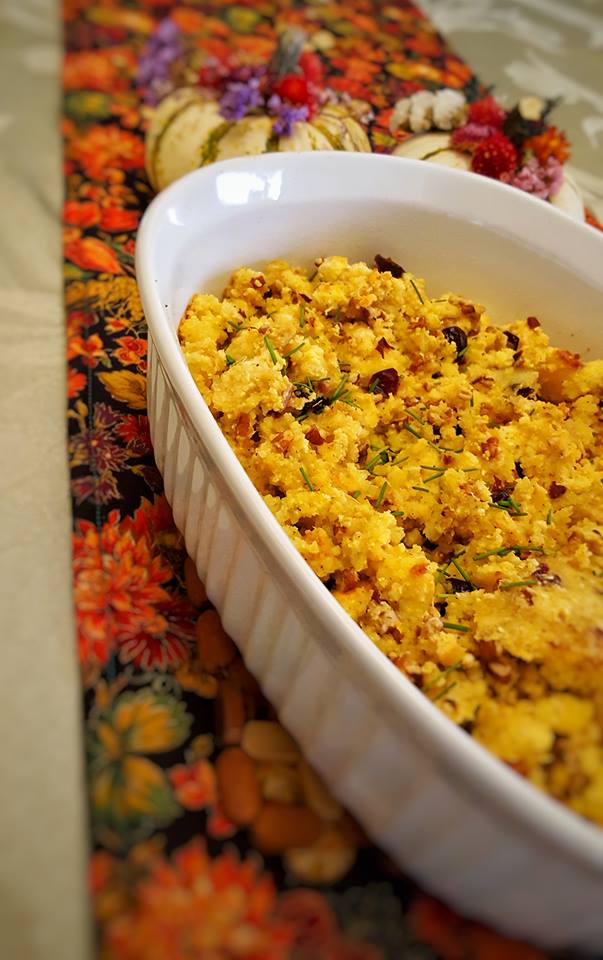 Ingredients:
4 Tbsp butter
1 large onion, finely diced
2 celery stalks, diced
1 tsp sage
Salt & Pepper to taste
1/4 cup dried cranberries
1/4 cup chopped pecan pieces
1 9x9 pan, or about 4 cups, of your favorite cornbread roughly cubed
1 cup vegetable, chicken, or turkey broth
1/4 cup cream
1 egg
Directions:
Heat oven to 325.

Set gas flame on stovetop to medium heat and melt butter.

Add onion and celery, stirring often until softened, about 5 minutes.

Transfer mixture to a large mixing bowl and add the remaining ingredients through pecans and stir to combine.

Gently fold in cornbread, taking care not to break up pieces too much.

Combine broth, cream, and egg and pour over stuffing to moisten.

Bake in a 2 quart oiled dish for 30-40 minutes or until heated through.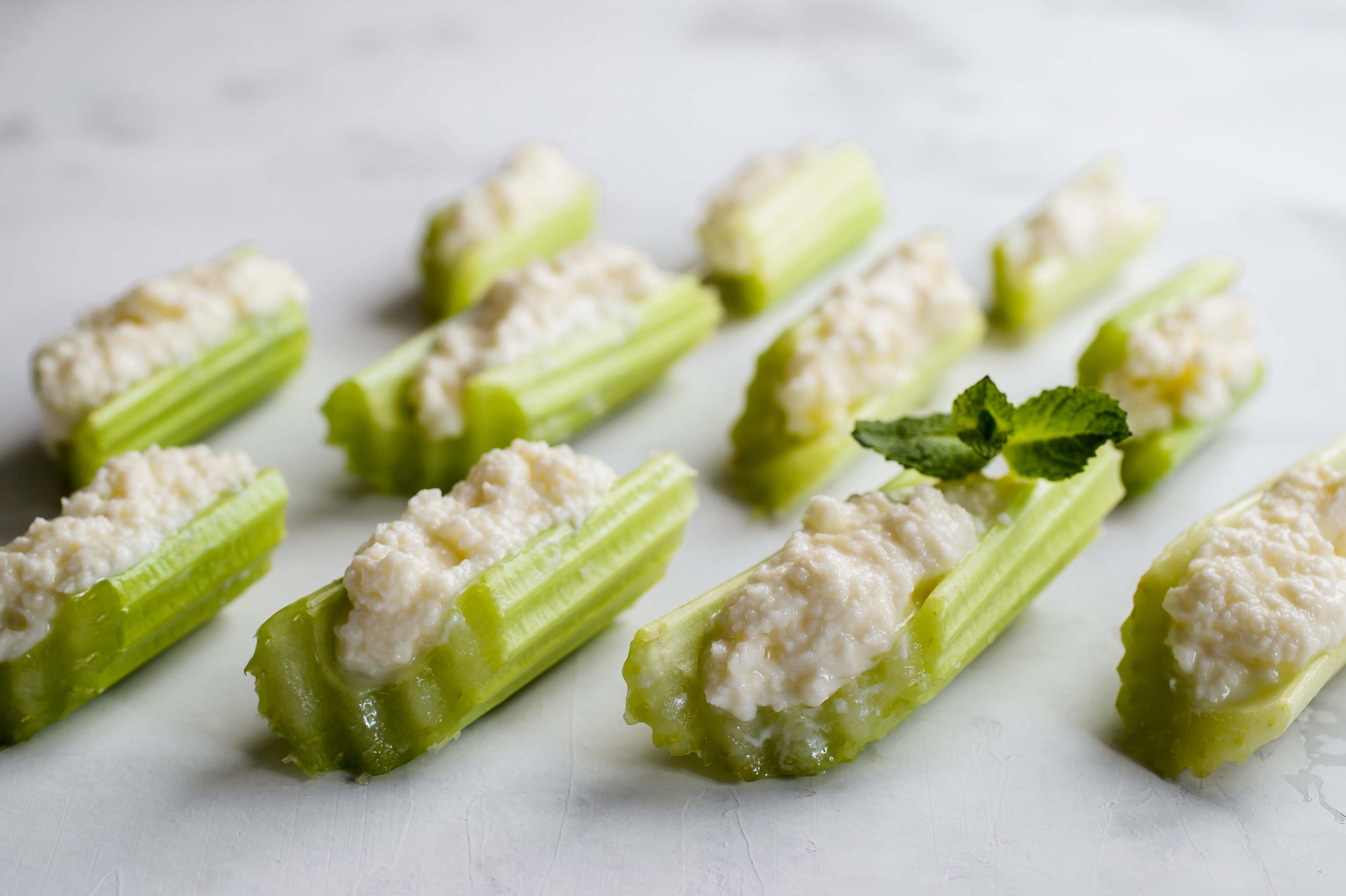 Ingredients:
One bunch of celery stalks (cut and cleaned)
4 oz smoked gouda cheese (softened)
2 oz cream cheese (softened)
2 TBS mayonnaise
2 tsp Dijon mustard
½ tsp onion powder
½ tsp Worcestershire sauce
chopped chives and/or parsley (fresh or dried)
Directions:
Blend all ingredients.

Put in plastic baggie and snip off corner.

Squeeze into celery stalks.
Crab and Veggie Stuffed Portobello Mushrooms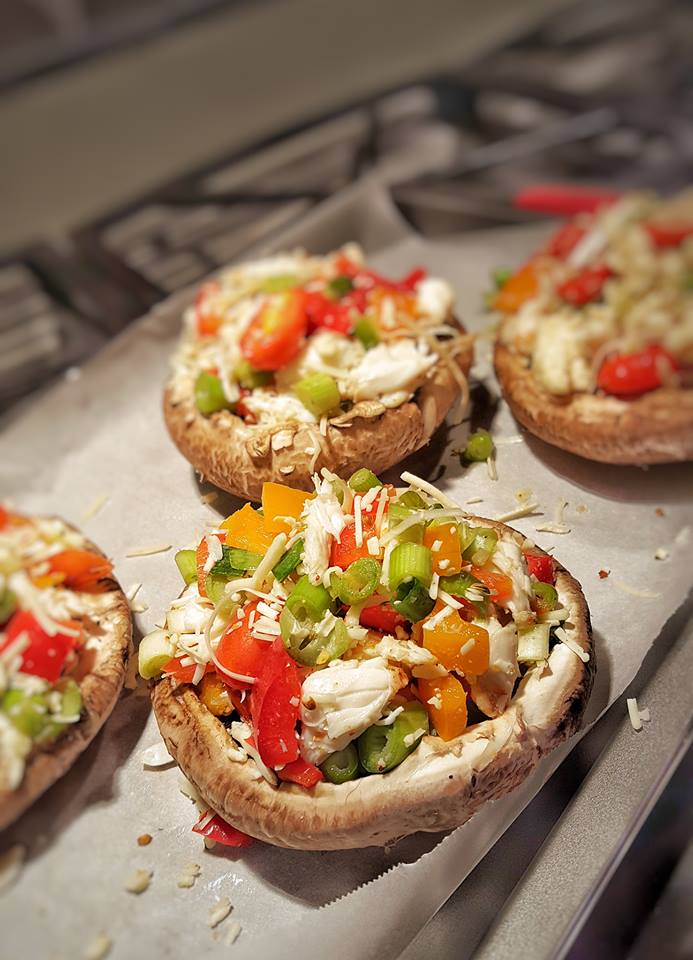 Ingredients:
4 whole portobello mushrooms, stems removed
2 bell peppers, diced
1 bunch green onions, white and green parts sliced
5 oz crab meat, lump or canned
1/2 cup shredded Italian cheese
1/2 tsp salt
1 tsp mixed dried herbs (basil, thyme, or your favorites)
1 Tbsp balsamic vinegar
2 tsp olive oil
Directions:
Combine bell peppers, onions, cheese, salt, and herbs.

Pick shells out of crab meat (or drain if using canned) and gently fold into vegetable mixture.

Split filling between mushroom caps and fill, pressing to fit the filling.

Place on a parchment lined baking sheet and bake at 350 degrees for 30 minutes or until cheese is bubbling and juices run from the mushrooms.

Drizzle with vinegar and oil and serve. Leftovers are great served hot or cold. Serves 4.
Shrimp Pasta with Honey Mustard Vinaigrette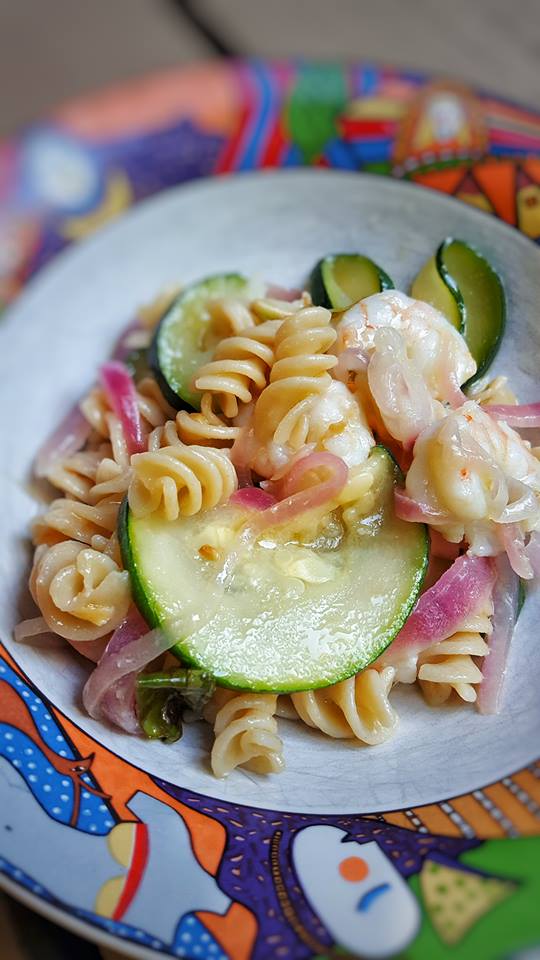 Ingredients:
2 cups pasta of choice
1 medium zucchini, about 10", sliced
1 red onion, thinly sliced
2 Tbsp olive or vegetable oil
1 lb raw shrimp of any size, thawed if frozen
1/4 cup fresh basil, rinsed and sliced
salt and pepper
Directions:
Cook pasta according to package directions.

Meanwhile, pour oil in a large skillet and place over gas flame on medium heat.

Add zucchini and red onion and cook until tender, about 5 minutes.

Add shrimp and cook 4-6 minutes more until shrimp are pink and cooked through.

Drain pasta and toss with vegetables, season with salt and pepper, sprinkle in basil, and pour over vinaigrette. Serves 4. 
Honey Mustard Vinaigrette: Whisk together 1/2 cup olive oil, 1 clove minced garlic, 1 Tbsp dijon mustard, 1 Tbsp honey, and 2 Tbsp white wine vinegar

Breakfast Hash with Potatoes and Stuffing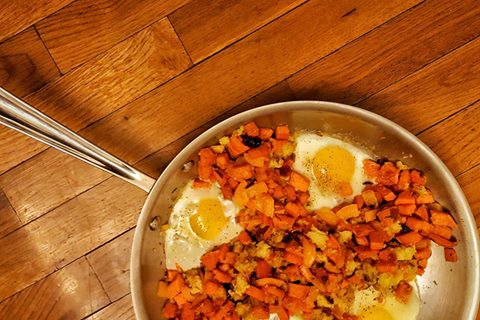 Did your family dinner last night feature stuffing and potatoes? Here is a great way to use leftovers after a large holiday meal!
Ingredients:
2 Tbsp oil
1 lb (1 large) leftover roasted sweet potato, cut into small pieces
1 bell pepper, diced
1-2 cups leftover cornbread stuffing
4 eggs
1/2 tsp salt and 1/4 tsp pepper, or to taste
Directions:
Turn the flame on your gas burner to medium and heat oil in a large saute pan.

Add bell pepper and cook about 3 minutes.

Add leftover potatoes and stuffing and cook until heated through and outsides of veggies are crisp, about 5 minutes.

Add salt and pepper.

Make 4 holes in the potato mixture, spraying with cooking spray to prevent sticking, and crack 1 egg into each hole.

Turn flame to low and cover pan, cooking until eggs are of desired doneness. Serve as-is or smothered in leftover gravy.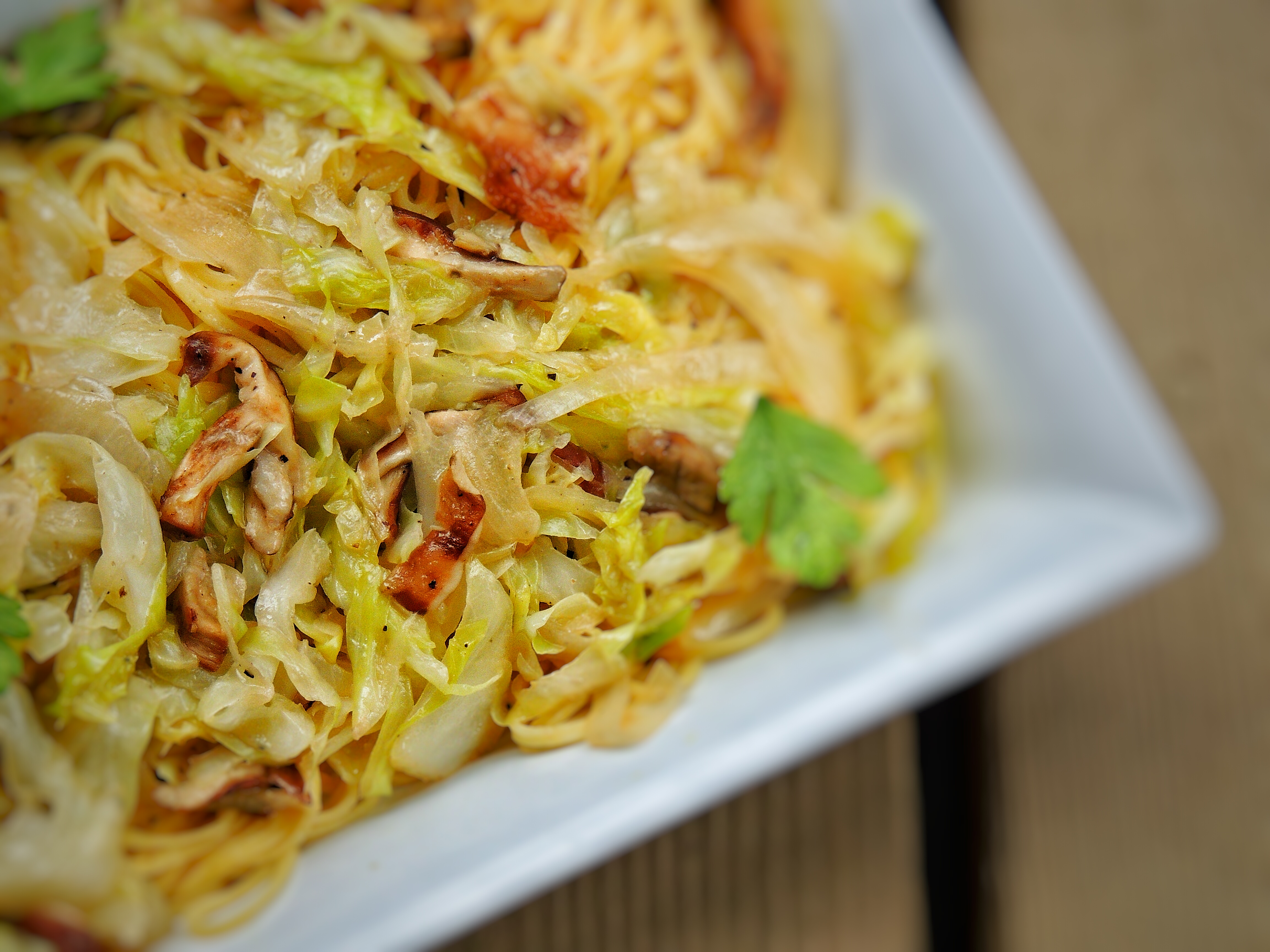 A classic Polish comfort food and a Pittsburgh tradition, haluski typically relies on mounds of golden butter for moisture and flavor. Here, we've lightened up this simple dish and elevated its presentation with the addition of shiitake mushrooms. Relying on a few simple, fresh ingredients and good quality butter keeps this dish simple and humble. Sprinkle with crumbled goat cheese before serving for a creamy, elegant presentation.
Ingredients:
1 small onion, slivered
1 small head of green cabbage, thinly sliced
5 oz fresh shiitake mushrooms
4 Tbsp butter, divided
6 oz fresh pasta of choice, or 2 cups dried wide egg noodles
¾ tsp of salt and ½ tsp of pepper, or to taste

Directions:
Set large, nonstick skillet or dutch oven over gas range on medium heat.

Add 2 tablespoons butter. When melted, add slivered onion and cook, stirring frequently until onions are soft, about 8 minutes.

Add cabbage and cook, stirring occasionally, 3 minutes.

Add mushrooms and cook just until soft, about 4 minutes. Vegetable mixture should be soft but still retain bright color.

Turn off heat and remove pan.

Immediately add the remaining butter, salt, and pepper and stir until well-seasoned and butter is melted.

Meanwhile, cook pasta according to package directions in salted, boiling water.

Add pasta to hot vegetable mixture and serve immediately. If pasta appears dry, add a few tablespoons of reserved pasta cooking water. Serves 4.
Pumpkin Budnt Cake with Maple Glaze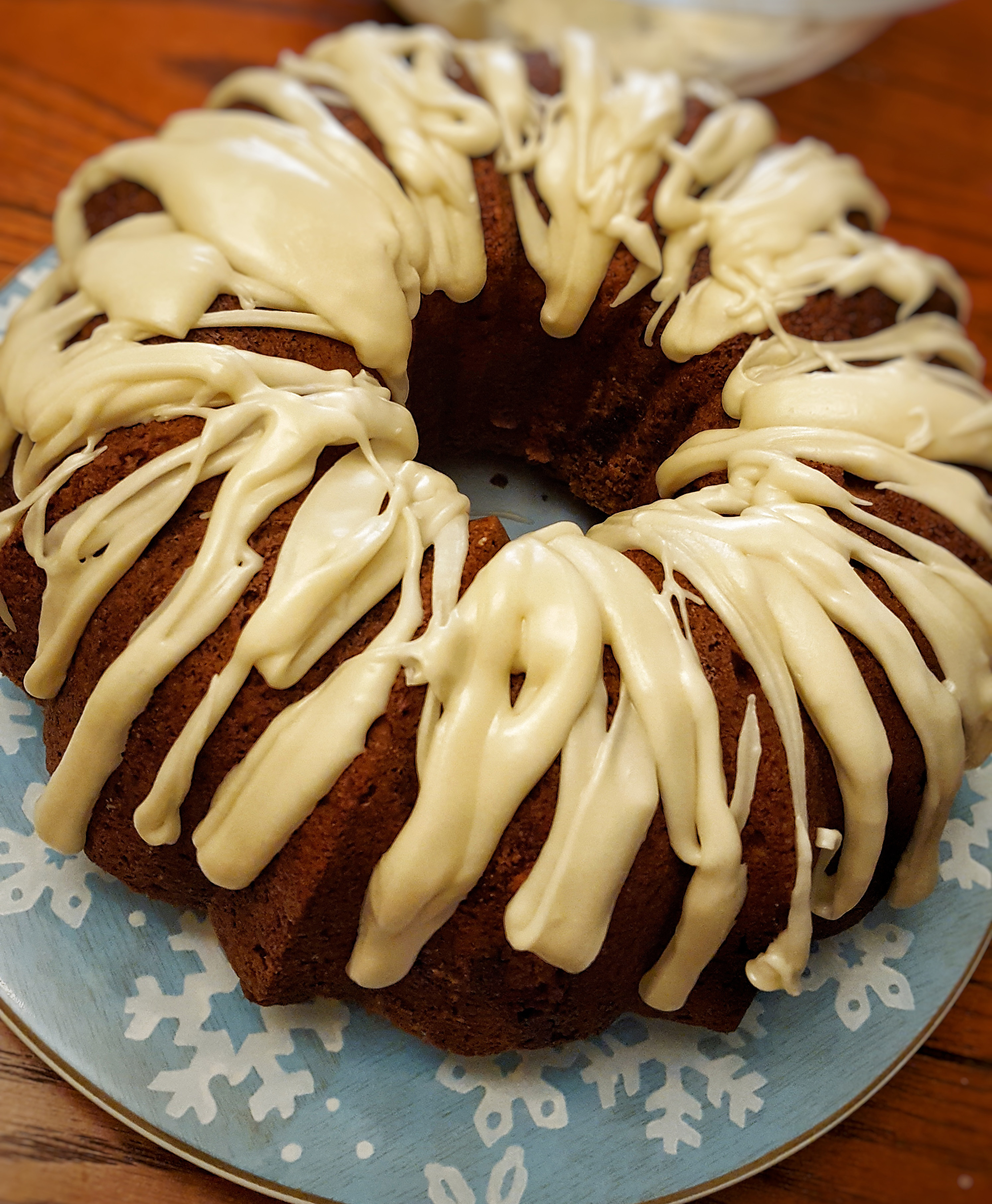 End your holiday meal on a delicious note with this spicy, sweet pumpkin bundt cake with maple glaze. This cake can feed an army and makes great leftovers.
Ingredients for the cake:
1 cup brown sugar
1 cup white sugar
1 cup butter, softened
3 eggs
3 cups flour
2 tsp baking soda
2 tsp jarred pumpkin pie spice
1 tsp ground cinnamon
1 Tbsp vanilla extract
1 15-oz can solid-pack pumpkin puree
Directions for the cake:
Preheat the oven to 350.

In a large bowl, beat the butter and sugars until fluffy.

Add vanilla and eggs, one at a time, beating well after each addition.

Combine flour, baking soda, and spices in a separate bowl.

Add dry mixture to batter alternately with pumpkin, beating just until incorporated after each addition.

Spoon batter into a well greased 12 cup bundt pan and place immediately in oven.

Bake 50-60 minutes or until a knife inserted comes out clean.

Cool 10 minutes before inverting cake onto serving plate.

Cool completely and cover with glaze.
Ingredients for the glaze:
1/3 cup maple syrup
2 Tbsp butter
1-1/2 cups powdered sugar
2 Tbsp water+more
Directions for the glaze:
Melt butter and syrup together in the microwave.

Mix in powdered sugar; mixture will be crumbly.

Add 2 Tbsp water and mix.

Add more water, 1 tsp at a time, until desired consistency is reached.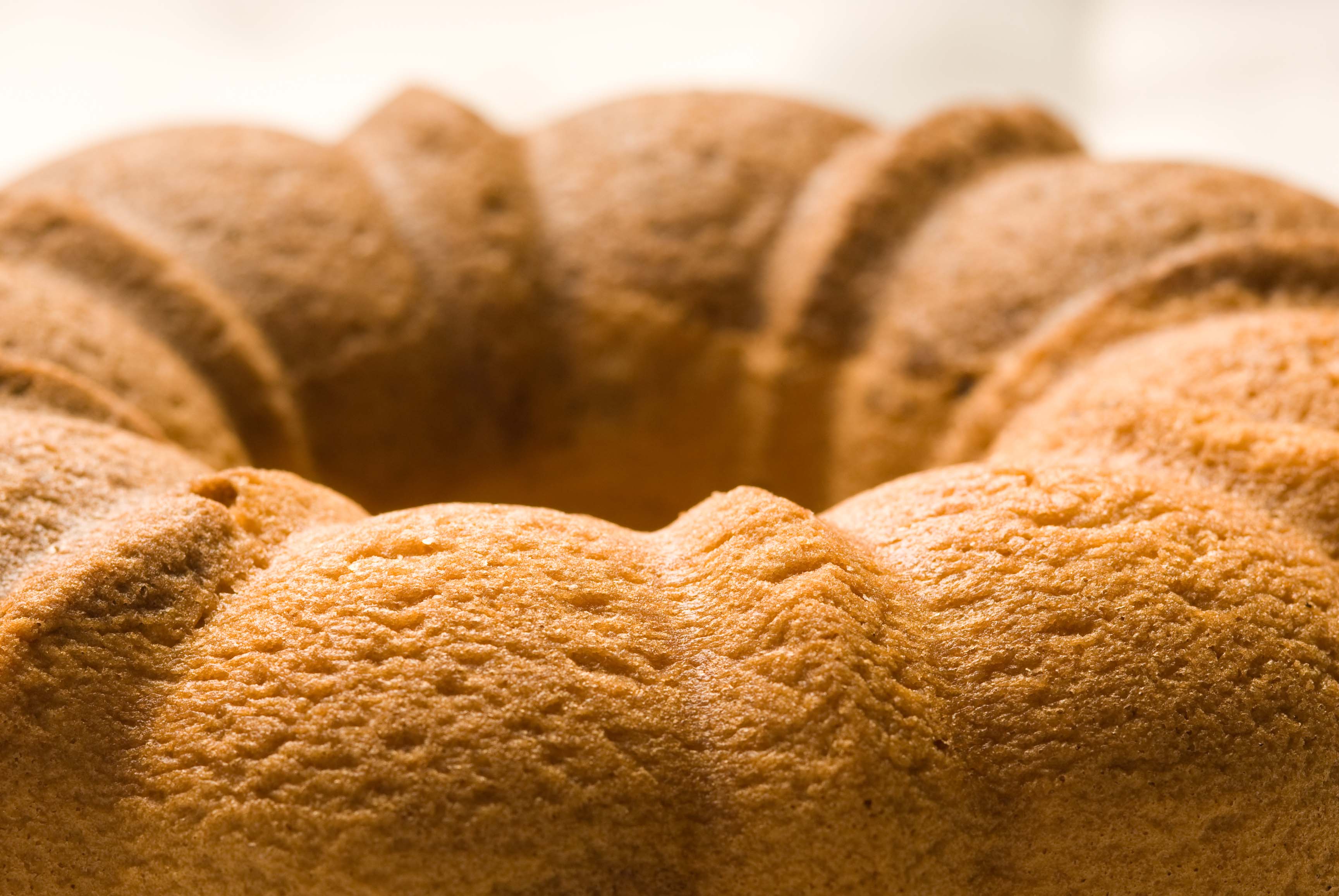 Ingredients: 
1 Box Pillsbury Yellow Cake Mix
1 Package Instant Vanilla Flavor Pudding and Pie Filling Mix (4 serving size)
¾ cup Bordon Eggnog
¾ cup vegetable oil
4 large eggs
½ tsp groud nutmeg
Directions:
Preheat oven to 350

In a large bowl combine cake mix, pudding mix, eggnog and oil

Beat on low speed until moistened

Add eggs and nutmeg and  beat on medium high speed for 4 minutes

Pour into greased and floured bundt pan

Bake 40-45 minutes or until toothpick inserted near center comes out clean

Cool 10 minutes –remove from pan to finish cooling completely

Sprinkle with confectioners sugar if desired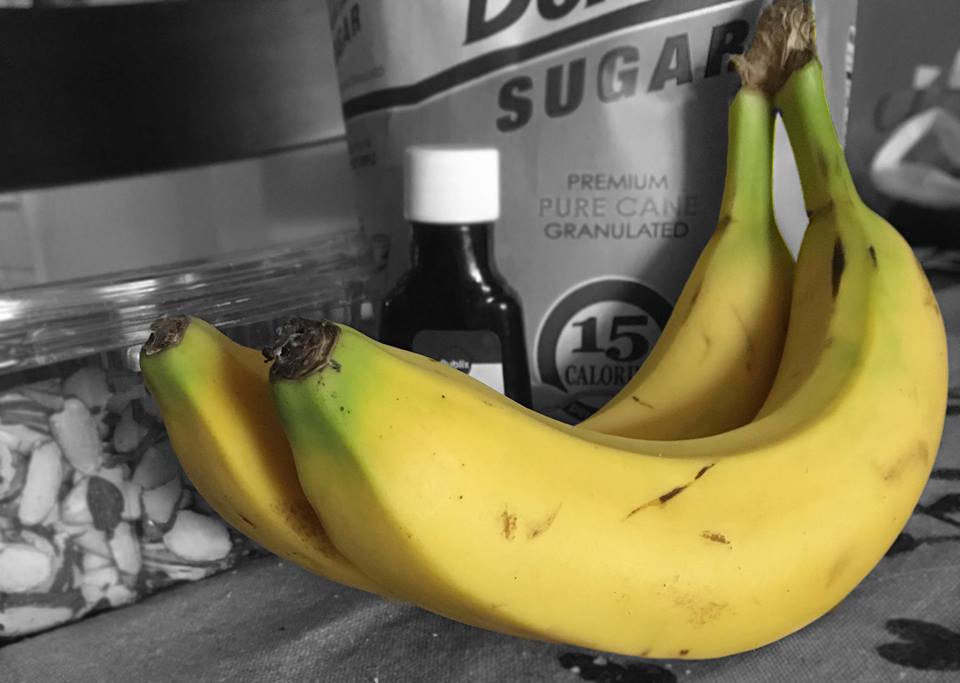 We'd like to dedicate this recipe to the memory of Beverly Ann Syrko Homa. She was the creator of the "Greatest Banana Nut Cake" and the loving mother of one of our employees. 
Ingredients:
2/3 cup shortening
1 1/2 cups sugar
2 egg yolks
1 cup mashed ripe bananas
1 teaspoon vanilla
2 cups flour
1 teaspoon baking soda
1/2 cup hot water
1 cup of nuts
2 egg whites beaten until stiff

Directions:
Mix all ingredients in the order provided.

Put in the oven as soon as possible.

Bake at 350 degrees for 45 minutes.
Dark Chocolate Zucchini Sheet Cake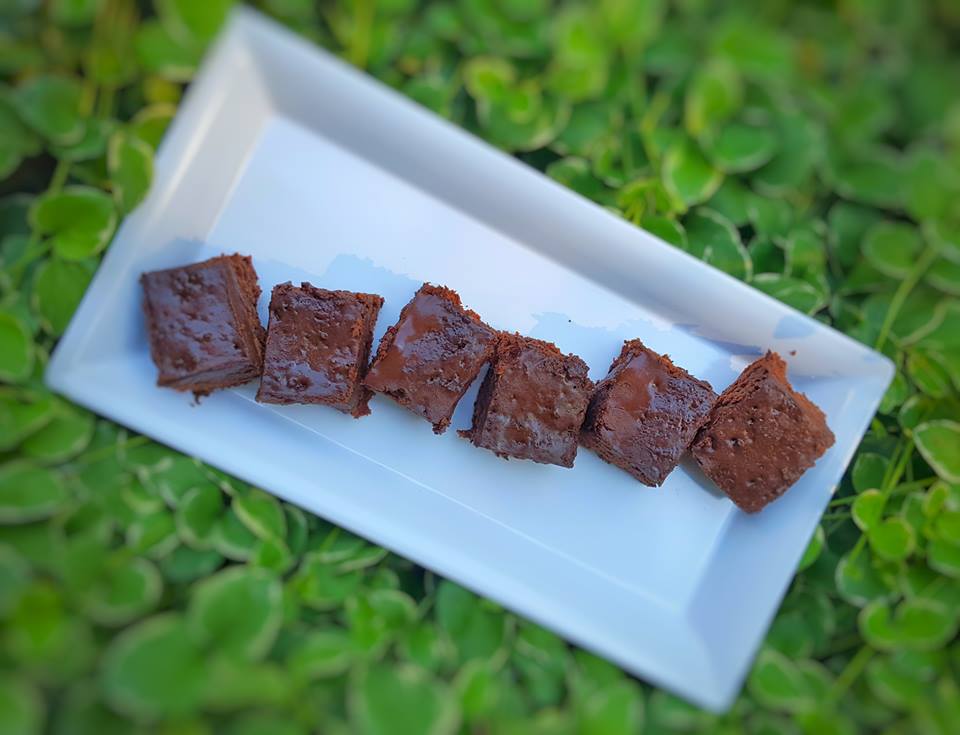 It might not look it, but this is one of the healthiest recipes on our list!
Ingredients:
1/2 cup (1 stick) butter
1/2 cup applesauce
1-1/4 cups sugar
1 tsp vanilla or coffee extract 
1 tsp baking soda 
1/2 tsp baking powder 
2 eggs
1/2 cup plain yogurt
2-1/2 cups flour 
3/4 cup dark or regular cocoa powder
3 cups shredded zucchini (about 1 large zucchini) undrained 
Directions:


Preheat your gas oven to 325 degrees and spray a 9x13 pan with cooking spray.

In a mixing bowl, beat together the butter, sugar, applesauce, and vanilla until smooth.

Beat in eggs one at a time. 

In another bowl, mix together the flour, baking powder, baking soda, and cocoa.

Add the mixed dry ingredients alternately with the yogurt to the egg mixture.

Stir in the zucchini, turn batter into the cake pan, and bake for 30-45 minutes or until a knife inserted into the center of the cake comes out clean. 

Serve as-is for a healthier treat, or top with your favorite ganache, buttercream, or chocolate glaze. 
Burgh's Buckeye Dark Chocolate Cake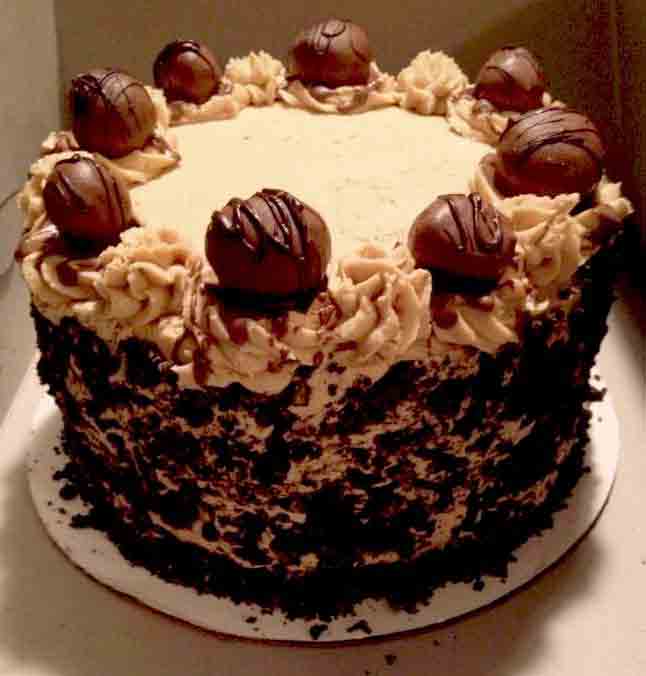 Check out this amazing recipe from one of our employees, Lindsey Coy of Sweets N'at Bakery. We're so grateful she let us in on the secret of her incredible Buckeye Dark Chocolate Cake, and can't wait to share it with you. Click the link below to download your copy of the recipe!